As I entered the palace on a cool February evening, I had to pinch myself. Was I really going to an event in a European palace? How was this my life?? I was actually living one of my fantasies in gorgeous Porto, Portugal. While I wasn't attending an exclusive royal ball, I was attending a wine tasting event, which was still pretty cool. It was especially fitting since I was visiting a city with a wine named after it (Port wine, for those who didn't know!). 
Drinking wine isn't the only thing you can do in Porto though. Here are three day's worth of ideas for your trip to this pretty Portuguese city: 
Day One
If you love books as much as I do, or if you're a Harry Potter fan, Livraria Lello is the perfect first stop while in Porto. This quaint, old bookshop is said to be the inspiration for the Flourish and Blotts bookstore in the Harry Potter series. It's gorgeous! The walls are lined with dark wooden shelves filled with books, and there is a curved staircase with red stairs in the center of the store. From the second floor you can look down to the floor below you, and can also see a beautiful stained glass window in the ceiling. You have to pay 5e to get in, but if you buy a book you get five euros taken off the price. It might seem a little crazy to have to pay to visit a bookstore, but considering how many tourists come in, I'm sure it would be hard for them to do business when people just want to look at the store. Also, consider the amount of upkeep they must need for the old building! 
After visiting the bookstore, and hopefully finding a cool book as a souvenir, you can admire the beautiful tiled houses while walking down to the banks of the Duero River. On the way, you can stop by the Palacio da Bolsa, which was the location of the wine tasting event that I attended. This palace isn't actually a royal palace, but instead the old Stock Exchange in Porto. This doesn't make it any less majestic though! The exterior and interior are both beautiful, particularly the inside courtyard (which is called the Hall of Nations) with its unique crystal ceiling and beautiful flooring. You can take a tour of the palace for 11 euros (and there are tours in English!). On the tour you can see the palace's library, Court Room, Jury Room, and more! 
If you are really into wine and happening to be visiting in February, I definitely recommend attending the Essencia do Vinho event at the palace! I just stumbled upon the event, but it was a really cool way to explore a palace, and try lots of different wines (apparently there were 3000 different types!). At the event, you are given a wine glass and there were different booths set up from various winemakers. They'd fill your glass, you'd drink it. Repeat. There was also food available for purchase. I particularly enjoyed trying different port wines, and just felt fancy drinking wine in a palace. 
After visiting the palace, you can continue your way down to the river. When I was in Porto, there were artisan stands along the bank of the river so we looked at the cork bracelets and bags they were selling, as cork is one of the popular souvenirs in Porto, along with tiles of course. You can also see old boats that were used to transport wine, and along the bank there are some of the port wine cellars, like Taylor's. I unfortunately didn't visit, but I've had Taylor's Port Wine and it's amazing! My biggest regret about my trip to Porto was that I didn't tour Taylor's so if you're headed to Porto, I highly encourage you to go! From what I've heard, they have informational videos and a tour to show you the process of making port wine. Then, you get to taste it! They give you both white and red wine, along with some chips. Sounds like a great activity to me! 
If you're looking for a place for lunch or dinner, consider the Majestic Cafe! It's a beautiful cafe (and quite large) and it'll make you feel majestic! The food is delicious, and I'm sure you'll enjoy the music played by the pianist. It was even voted one of the most beautiful cafes in the world by ucityguides.com and a European Best Destination in Porto for 2017. 
Day Two
Get ready for another busy day! A great place to begin your day is by climbing the Clergio's Tower. The tower is part of a Baroque 18th century church, and is unique because the building is built on a hill. You can tour the church, but the best part is climbing the belltower to see amazing views of the city! Just be prepared to walk up some stairs. 
After getting a bird's eye view of the city, head to the beautiful and winding Ribera district. There, you'll see the unique and colorful tiled houses that you probably imagine when you think of Portugal.  Also make sure to check out the Se cathedral. The cathedral had its groundbreaking in 1110, but wasn't finished until 1737, so if you're interested in architecture, you'll enjoy seeing the Romanesque, Gothic and Baroque elements present in this unique cathedral.
If all the walking has made you hungry, you'll need to try the signature sandwich of Porto: the Francesinha or Francesiña. The typical sandwich is made up of bread with steak, ham, and sausage which is then covered with an egg, cheese and a sauce. It's delicious, but you'll definitely be stuffed afterwards. You've been warned. But still, I ate almost all of it (plus fries). A lot of restaurants serve this dish, so you shouldn't have a problem finding a restaurant with it on the menu. 
If you have the stamina to walk more, try walking up to the top of the Luis I Bridge. From there you can see great views of both banks of the river, and will burn off a few of the calories from your huge lunch. It's said that the bridge project was presented by Gustav Eiffel. Yes, the very same Gustav Eiffel who designed the Eiffel Tower! 
If you have time in the afternoon, it would be a great time to explore a museum! Porto has a variety to choose from depending on what you're interested in. If you like football/soccer, there's the FC Porto Museum. If you like art, there's the Portuguese Center of Photography. If you want to learn some history and are traveling with kids, you can visit World of Discoveries, which is an interactive museum and theme park. There's also a botanical garden, if you want to spend more time outside. You definitely won't be bored in Porto! 
Day Three
Don't miss the chance to explore the Bolhão Market while in Porto! The market is in a really unique old building where you can buy basically anything – flowers, fish, produce, eggs…the list goes on. Even if you don't buy anything, taking a stroll in this market is like stepping back in time — a time before supermarkets and ordering groceries online. 
Then head to the Jardins do Palacio de Cristal, a beautiful park which has some peacocks. I love peacocks, so never pass up a chance to see them walking around! I was expecting a crystal palace like the one in Madrid, but the only thing I saw that looked like a crystal palace was a big dome that looked like a sports arena. Even without a crystal palace, it was still really nice to explore the park and enjoy nature. 
Use the rest of your time to just walk and explore the city! Make sure you see the gorgeous tiled churches like the blue and white Igreja do Carmo. Stoll by the water, marvel in the colorful buildings and grab a Pastéis de Nata, which is a traditional Portuguese sweet.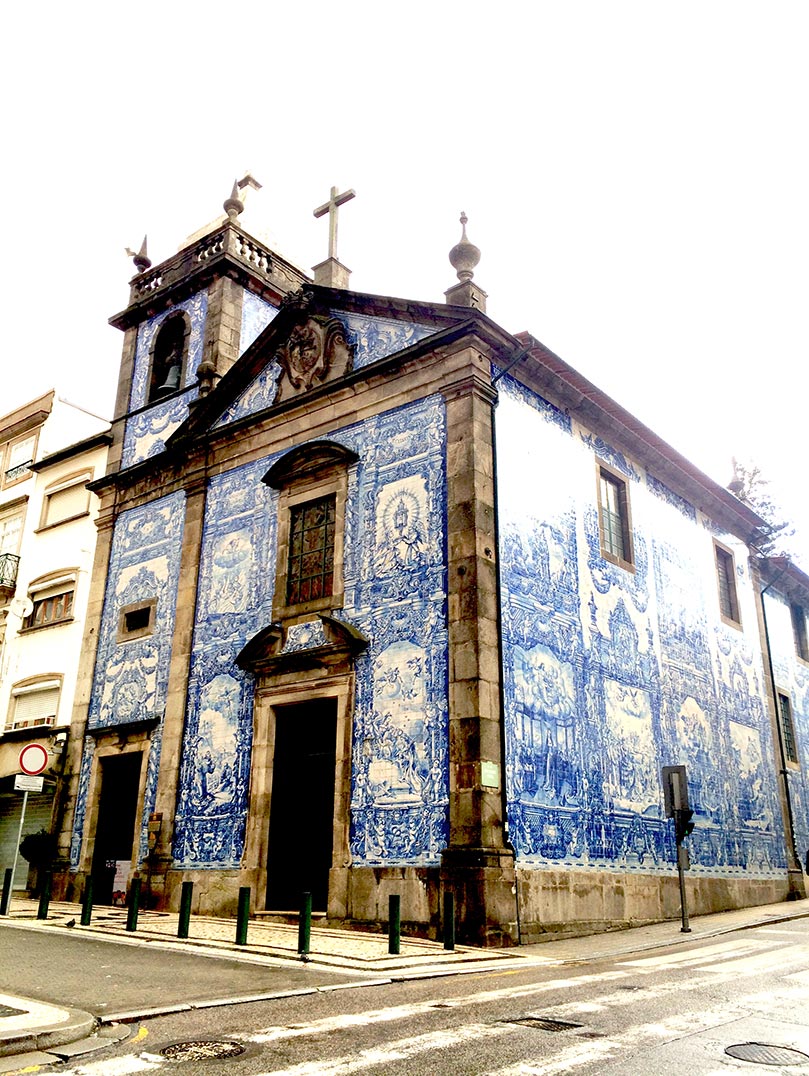 Besides just attending wine festivals in palaces, there's more than enough things to do in Porto, Portugal for 72 hours. From walking along the Duero, eating giant sandwiches, and seeing beautiful tiled buildings, you'll love every minute of your time in Porto and you'll want to plan your next trip before you even leave. What was your favorite thing about Porto? Let me know in the comments! 
Itinerary
Day One
If you flew to Porto, take the metro to the city center. It takes about 30 minutes. 

Stop by Livraria Lello 

Tour the Palacio da Bolso

Explore the banks of the Duoro River

Tour Taylor's Port Wine Cellars

Eat at Majestic Cafe
Day Two
Climb the Clergio's Tower

Explore the Ribiera District

Visit Se Cathedral

Eat a Francesinha sandwich

Walk over the Luis I Bridge

Visit a museum
Day Three
Check out the Bolhão Market 

Jardins do Palacio de Cristal,

Walk and explore the city before it's time to leave