Tranquil lakes, rolling green hills, and snow-capped mountains in the distance: If you're looking for a 72 hour trip filled with gorgeous nature, look no further than Switzerland! But why visit just one city when you can visit three beautiful cities in just three days? Here's your guide to visiting Geneva, Switzerland with day trips to Annecy, France and Montreux, Switzerland.
City One: Geneva, Switzerland
Fly into Geneva, Switzerland to begin your three cities in three days adventure! Geneva is the perfect home base to start your trip, as it is close to several other beautiful cities that are great for day trips! Funny story about my trip to Geneva: It was my first solo trip. My flight got delayed so I arrived in Geneva after midnight and everything in the airport was closed! There were no more buses for the night, and the ATMs were turned off so I couldn't take out any Swiss Francs.  I had to use my very rusty French skills to ask the local police to help me get a cab that would take Euros. And then of course it was also pouring outside and I arrived at my airbnb hours later than expected…it was quite the start to my trip, but definitely made it memorable! 
After seeing the Old Town of Geneva, I completely forget the previous day's stress though. The city is stunning! The Old Town is seated on the edge of Lake Geneva with views of the beautiful countryside in the distance. The streets are lined with the flags of Switzerland and Geneva, giving them an ambiance of a time gone by. 
Geneva isn't a huge city, but there are plenty of things to do! One thing that you definitely can't miss is the Jet d'eau. And by saying you can't miss it I mean that it's literally a giant water fountain in the lake. The fountain is one of the most famous landmarks in Geneva, and was actually used as a safety valve for a hydraulic power network in 1886. You can view it from a distance or walk on a pier to get up close (which also means getting a little bit wet, but would probably feel pretty good on a hot summer's day). I couldn't help but take a ton of pictures of the Jet d'eau from basically every angle. Nearby the Jet d'eau, you can also explore the le Jardin Anglais, a really cute little park next to the lake. It has a whimsical gazebo, a huge clock made of flowers, and some busts of famous people which you can see while strolling along the lake.
My favorite view of the Jet d'eau was from the Cathédrale Saint-Pierre Genève! For 7 Swiss francs (6.55 euros), you can climb the church's tower and see incredible views of the city and the lake! Religious activity in this location is said to date back to the 4th century, but the current cathedral dates from 1150 to 1250. Still pretty old in my opinion. Inside, the cathedral has beautiful stained glass windows, but for me the best part were the views from the tower!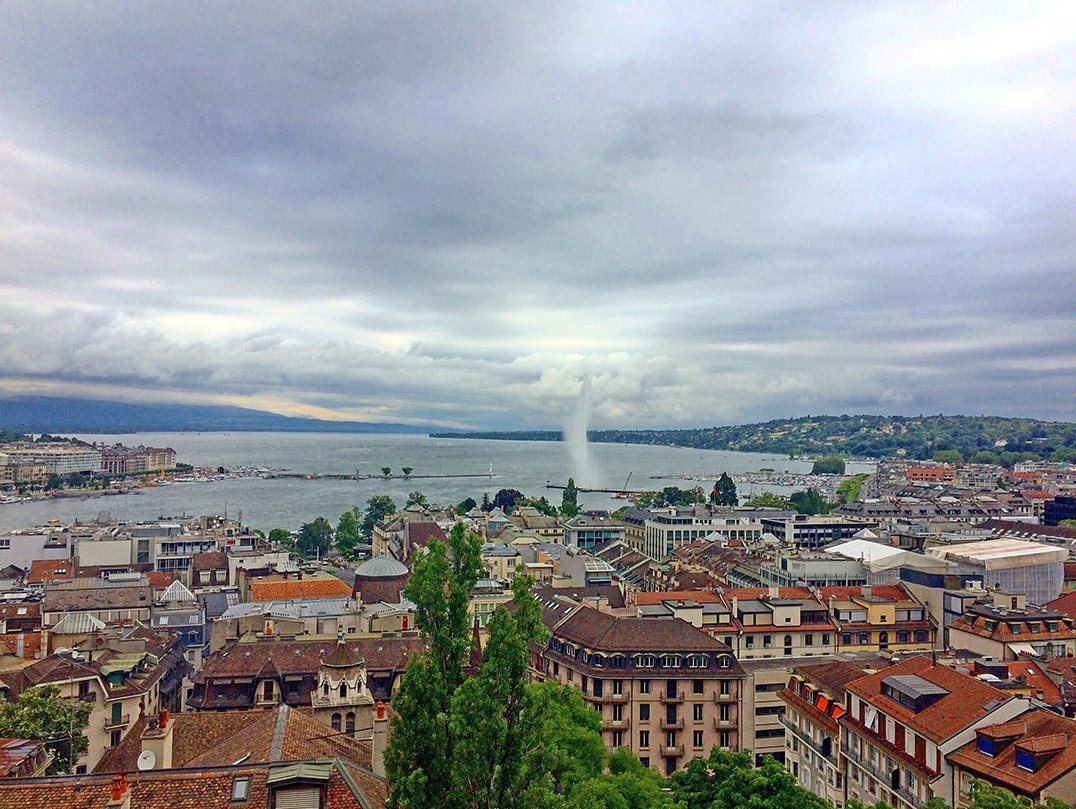 If you want to spend more time around the lake, you can hop on one of the ferries and visit another part of the lake. I took a ferry to an area where there were a lot of watch stores, since the Swiss are known to be excellent watchmakers. I only window shopped, but if you have a few thousand to spend, a watch would be an excellent souvenir. If you're not into watches, you could explore the nearby botanical garden.
If you love museums, Geneva has plenty of them! I really enjoy art (particularly Renaissance art!) so I visited the Art and History Museum. They have over a million pieces ranging from artifacts from Ancient Egypt and Greece to Medieval arms and armour to many works of art. The permanent collection is free, so I recommend you go, whether to just take a quick walk through or spend several hours like me. Besides art, there are a lot of other interesting museums in Geneva to explore including the Red Cross Museum, which has a permanent exhibition on the history of humanitarian action. You can also tour the United Nations building in Geneva if you're interested in learning about the United Nations and what they do. Make sure that you plan ahead because the English guided tours are only at specific hours. Check out the UN Geneva website before you visit so that you'll know how to get tickets etc. 

City Two: Annecy, France
From Geneva, you can catch a bus to Annecy, France for the day. Ever since seeing photos of the beautiful canals and colorful buildings, I wanted to visit Annecy, and I was 100% NOT disappointed! I was in the happiest mood as I wandered the medieval streets filled with beautiful flowers, clean canals, and colorful buildings. Annecy definitely gives off a storybook vibe, and is known as the "Venice of the Alps."
I highly recommend visiting on a Tuesday, Friday or Sunday between 7 am and 1 pm so you can explore the Old Town Market to see and taste this region's gastronomical delights. There are different types of meat and cheese and fruit and bread and WOW I loved it! I bought a peach, cherries, and this traditional fried potato/bread thing (not sure what it's called) from the market and then sat in the lakeside park to eat lunch. The lake is this gorgeous green/blue color and is surrounded by mountains. I sat by the lake and listened to music and watched some people dance. It really doesn't get much better than that!  
After checking out the market and the park, you could explore Annecy's castle. The castle looks beautiful from the outside, and on the inside there's a mix of historical pieces, modern art and an aquarium. If you're looking for a variety, this is the place to go!  I personally thought it was a strange mix, so it wasn't my favorite castle, but the views of the red roofs and mountains of Annecy from the castle made it worth it for me. 
No trip to Annecy is complete without seeing the Palais de l'Île. It's one of the most photographed parts of the city, and those photos were the way that I discovered this gorgeous town. The building is in the shape of a ship and dates from the 12th century. This building, which is situated in the middle of a canal, has been a prison, a courthouse, a mint, and also an administrative center. It's a very unique building, which contributes to the charm of the town. 
There are also a lot of beautiful churches to explore, such as the Basilique de la Visitation (which has a monastery as well). It's not a medieval church (it was actually built in the 20th century), but it is located on a hill above the Old Town. It is a bit of a hike to get up to the basilica, so you've been warned! If you're not up for the walk, there are plenty of other beautiful churches to explore in the Old Town. 
If you are a nature lover, you could spend part of your day pedal or row boating on the lake, or cycling along the lake. There are also several beaches such as Plage d'Albigny and Plage de l'Impérial where you can swim, or use amenities such as ping-pong tables, badminton courts, and beach volleyball courts. 
City Three: Montreux, Switzerland
The last city for your three cities in three days trip is Montreux, Switzerland! Montreux is about an hour from Geneva by train, and it is on the other side of the lake. The train wasn't cheap (I remember it costing about 60 euros round trip, and I bought my ticket from a ticket machine at the train station the same day) but I don't regret it! The views of the lake, the mountains and the beautiful countryside from the train made it worth every penny. 
The main reason I wanted to visit Montreux was to see Chillon Castle, one of Switzerland's most visited landmarks. The castle is situated on a small island right on the lake with incredible, snow covered mountains in the background. It's said that this castle even inspired Prince Eric's castle in the Little Mermaid! The castle became the famous landmark it is today after the English poet Lord Byron visited in the 1800s and wrote the poem, The Prisoner of Chillon about a former prisoner in the castle. To enter the castle, you need to cross a small bridge and then enter into one of the three courtyards. You can see several rooms filled with furniture, arms and armour, and artwork. From the castle you can also see amazing views of the mountains and the lake. It's truly in an incredible location!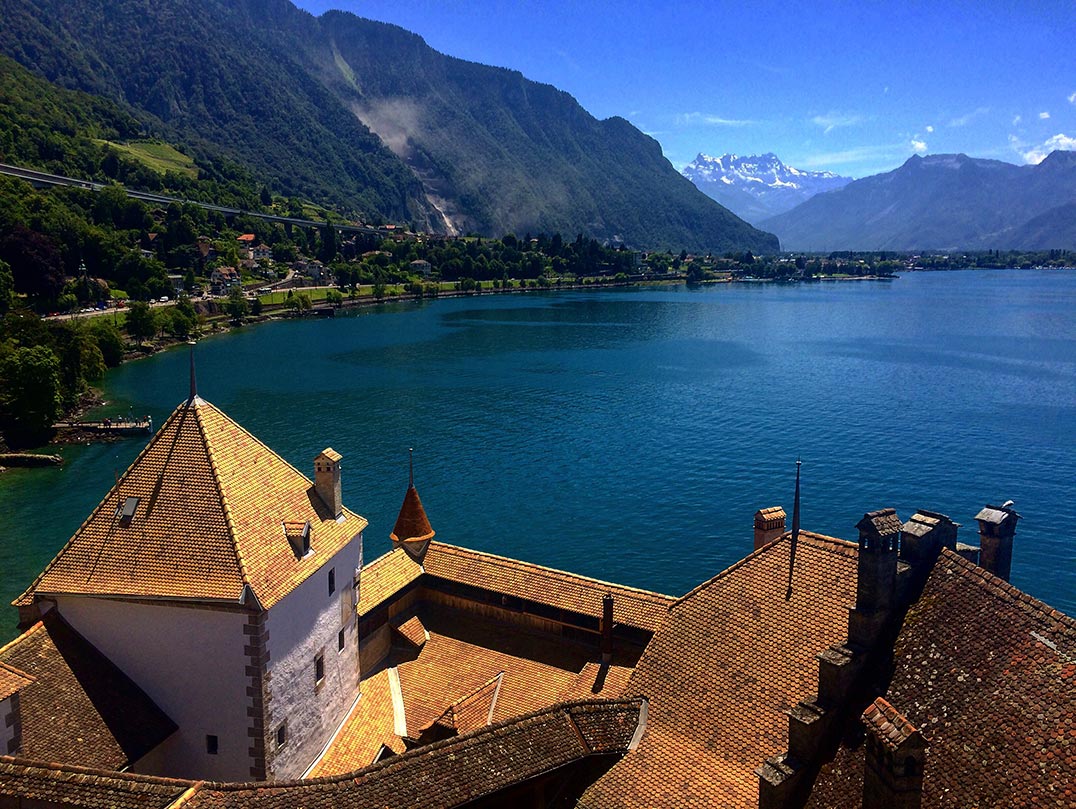 Montreux is also known for music and every year there's the Montreux Jazz Festival. The festival has been going on since 1967, and I was lucky enough to be there while it was going on, even though it was totally a coincidence on my part! While I didn't have tickets to any of the concerts, there were a few free concerts going on so I was able to grab a drink and sit in the grass to enjoy the music. During the festival, the whole city was buzzing with activity, and I loved seeing the city during its most famous event! While it's called the Montreux Jazz Festival, jazz isn't the only type of music that is played. Previous acts that have performed at the festival include Elton John, Lewis Capaldi, Bon Iver, Sting and Lizzo. And that was just in 2019 alone! Music has been a big part of Montreux for a long time, and there's even a statue of Freddie Mercury along the lake because he lived in Montreux at one point and recorded his last Queen album there. There's also the Queen Studio Experience which houses artifacts from Freddie Mercury and Queen, and you can see the studio where they used to record. As a Queen fan, I really regret missing out on that one. 
Besides listening to music, there are plenty of other things to do in Montreux. You can walk along the lakeside path and marvel at the gorgeous surrounding nature, you can visit nearby vineyards, or go to a casino. I personally chose to spend my time walking along the lake and walking through the town, taking in the beautiful landscape and architecture. 
Visiting three cities in three days might see like a daunting task, but it's very easy when staying in Geneva! You can make the most of your visit to this region by adding day trips to both Montreux and Annecy, where you'll be able to soak in all the gorgeous nature, architecture, music, and food that this beautiful region has to offer.
Carrie Hancock
American living in Madrid, Spain and taking 72h travels across Europe.
When not traveling, I can be found hiking, running, and attempting to make Spanish food.
Learn more about me