Fairytale cities with good food, beer, and architecture should always be at the top of the list.
Do you love good beer? Or amazing chocolate? Or the world's best fries? Or the most famous and delicious waffles in the world? Or cities that look like fairytales? If you don't like any of those things, stop reading now. But if you love all these things as much as I do, you'll love the beautiful Flemish region of Belgium.
I've spent quite a bit of time in Belgium. For two summers, I lived in and explored Belgium, and fell in love with the gables and colors of the Flemish region. In particular, loved the medieval cities of Bruges and Ghent (you may also see them spelled as Brugge and Gent, so don't get confused). These well-preserved medieval cities look like the setting of fairy tales, and as a self-declared princess I felt right at home. With Ghent being just 30 minutes from Brussels and Bruges just 30 minutes from Ghent, you can easily see both in just 72 hours!
Day 1: Ghent
How to get to Ghent:
If you're flying into Belgium, most likely you'll be flying into Brussels. Save Brussels for another trip and make your way to Ghent! It's an easy 30 minute train ride from the city center of Brussels to Ghent, and if you're under 26 make sure you get an under 26 ticket! It's only 12 euros round trip.
"Medieval Manhattan"
Ghent and Bruges are located in what was called Flanders in medieval times (this confused me greatly during my AP European History class in high school). Ghent became a wealthy city not only for having a port, but also because of sheep (which happen to be one of my favorite animals)! The city's wool production led it to become one of the richest cities in Northern Europe and is now referred to as "Medieval Manhattan" because of it's wealth and towering medieval buildings: Saint Bavo's Cathedral, the Belfry of Ghent, and Saint Nicholas' Church, all of which you can still see today. The most famous view of the towers is from Saint Michael's Bridge, but the castle has nice views as well.
Graslei: 
When in Ghent, you can't miss out on the vibrant quai, Graslei, in the historic city center of Ghent. This is the perfect place to sit and enjoy a Belgian beer on a terrace, grab lunch, or just explore the quaint streets and canals. It's filled with colorful, historic buildings with Flemish Belgium's characteristic gables (the step-like roofs). Gables were actually a sign of wealth in medieval times, along with their practical use to clean chimneys. The more "steps" you had, the wealthier you were. Even thought they don't have a practical purpose today, they are a unique symbol of the Flemish region.
Climb the Belfry:

If there's a tower, I normally climb it. Seeing cities from above can give you a good idea of how it is laid out, what the architecture is like, and typically provides excellent views (and a great workout!). The belfry in Ghent was no exception. The 14th century Belfry is a UNESCO heritage site, and has different rooms you can see on your way up to the tower. This includes rooms where you can see the clock and the bells. My favorite part of the belfry was all the dragon motifs! Dragons are seen everywhere in Ghent, including the weather vane of the belfry.
Gravesteen Castle:
A city doesn't get more fairytale-like than having a castle in the city center, and that's how it is in Ghent! Situated in the city center, yet still surrounded by a moat, Gravensteen castle is another peak into Ghent's medieval past. Inside the fortress you can learn about its history, see and read about medieval torture devices, and climb the towers to see more great views of the city.
Patershol Neighborhood:
After visiting Gravensteen, make your way to the charming Patershol neighborhood. I wished I had found this neighborhood sooner because it was so cute! Here you can find more beautiful buildings with gables, plus cafes and restaurants, all situated on cobblestone streets. This part of town is not as busy as the city center, and you can peacefully wander these colorful streets wondering what it would be like to live in one of the old houses.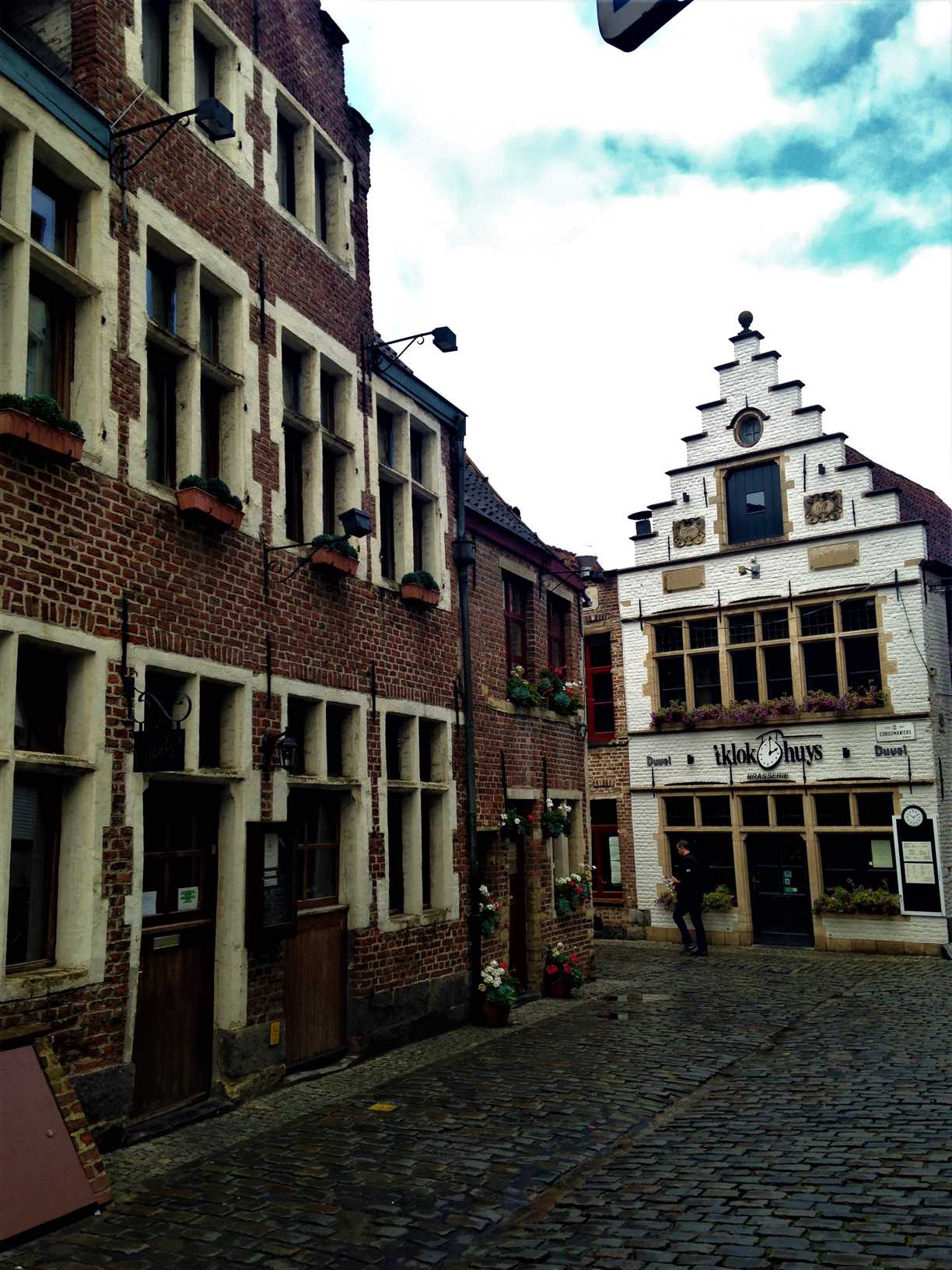 Walk along the canals:
Like many cities in Northern Europe, Ghent is filled with canals! When exploring the city, take the time to walk along the canals and cross the various bridges to find unique shops and restaurants, as well as seeing different views of the city's architecture. Make sure you stop into any chocolate shops you see! Expert tip on chocolate: Always look for free samples! Also, instead of buying a lot of chocolate at the first shop you see, try chocolate at each shop first. Sometimes if you just ask for one piece, they'll give it to you for free! Then you can go back and buy a whole box later.
If you are looking to do a bit more than just exploring, Ghent has many museums that you can visit. I visited the Design Museum, which is set in an 18th century mansion. The exhibition was mostly modern design so they had a lot of unique pieces. If design isn't your thing, there are many other museums that you can check out, such as the STAM Ghent City Museum, and the Fine Arts Museum.
Day 2: Ghent and then head to Bruges
The Mystic Lamb:
No trip to Ghent is complete without seeing it's most famous resident: The Adoration of the Mystic Lamb (also known as the Ghent Altarpiece. That's how important it is in Ghent.) I studied a bit of art history in both high school and college, so I knew I had to see this famous work in person while I was in Ghent. The altarpiece, which was painted by Flemish painters the Van Eyck brothers,  is located in a special room inside of Saint Bavo's Cathedral (one of the famous three towers). You have to pay 4 euros to see the altarpiece, but the cost is worth it because an audio guide is included. While I typically find audio guides a bit dry, this audio guide was anything but! I learned about the various times in which panels of the Mystic Lamb has been stolen. In fact, one panel has never been found! Story goes that in 1934, the bottom left panel was stolen. Years later, a man who claimed he knew where the panel had a heart attack and began to say where it was, but died before he could finish saying where it was hidden! So crazy! This isn't the only time the altarpiece was taken, as it was stolen by the Nazis during World War Two. Whether you like art or not, the Mystic Lamb is worth seeing just to learn more about it's crazy history!
How to get from Ghent to Bruges:
From the Gint-Sint-Pieters train station, it's an easy 27 minute train ride to Bruges (just remember that it's also written Brugge!). You can easily buy tickets online, or at the train station.
Markt:
Strolling the streets of Bruges will put you back in time, and also make you feel like you're in a fairytale. Bruges is one of the best preserved medieval cities in Europe and this is especially evident when walking through Markt, one of the main squares in Bruges. Here you can find the Provincial Palace (a government building), the belfry, and more lovely and colorful buildings with gables.


Waffles:
If Belgium is known for anything, it's their waffles, and at this point I consider myself a waffle expert! In Bruges, the best place to get a waffle is from a food truck in one of the main squares. You can visit waffle shops as well, but often the waffles aren't fresh. It's best when you can see them making the waffle in front of you. When I was there, the truck was located in Burg, the square where the Town Hall and Basilica of the Holy Blood are located, but keep an eye out for the truck in other places around the city.
In Belgium, there are two types of waffles: the Brussels waffle with is light and crunchy, and the far superior Liege waffle which is more doughy and sugary. YUM. At most waffles stands/shops, you can typically find both and you can add lots of toppings. In the picture below, I have a Liege waffle topped with nutella, powdered sugar, and a Belgian flag.
Canal Tour: 
One of the best ways to see Bruges is by a canal tour! While a bit pricey at 8 euros, on the 30 minute tour you can see all of the famous buildings in Bruges and learn which ones are the oldest. What I learned on my canal tour is that Bruges is a lot older than it looks (and it already looks pretty old!). Like many other cities in Europe, frequent fires caused many buildings to burn down and have to be rebuilt. Many of the buildings have dates on them, but that is the date in which they were rebuilt, not originally built. Today, there aren't many wooden buildings left as the wood was typically replaced for bricks, so if you find a wooden house, it's most likely very old!

Drink the world's best beer:
While you should be drinking good Belgian beer every day that you're in Belgium, when in Bruges Bar de Garre is a must visit if you like beer! I heard about this bar from a local, so you know it's legit. Hidden away from view in a small alley that used to be the Red Light District of Bruges, Bar de Garre has a large menu of Belgian beers, including their own house beer. My personal favorite Belgian beers are sour beers and lambics. If you've never had these types of beers before, you'll be in for a big surprise. They're a bit tart, fruity, and just different (but amazing!). You can get many different flavors, like Kriek (cherry flavored and the most widely available), peach, apple, and more. Lidemans is always a good bet for lambic beer. Even for those skeptics out there, it's definitely worth a try. Especially in Belgium!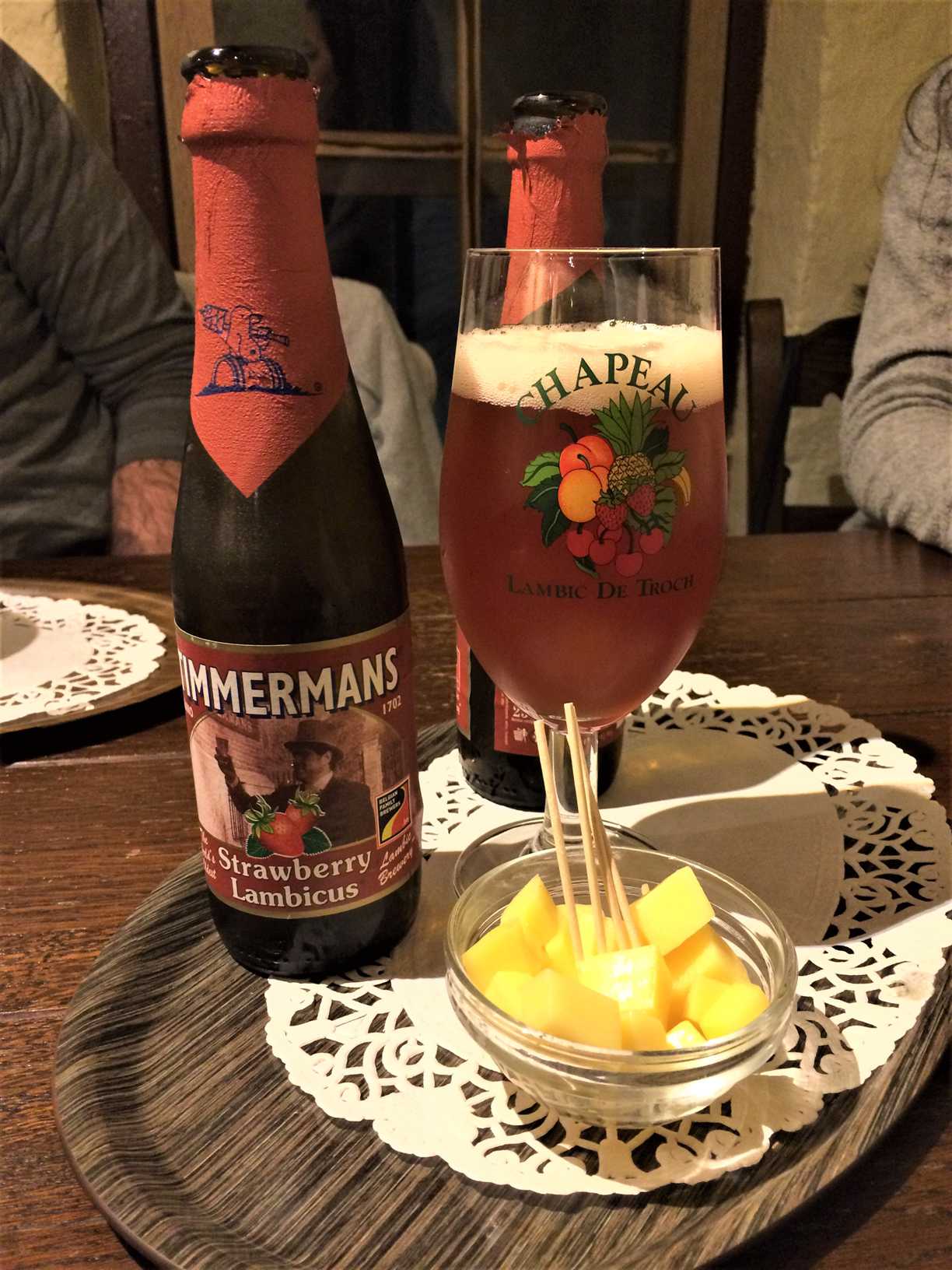 Day 3
Windmills:
Venture outside of the city center to see the windmills! While there are only four out of 23 remaining, it's still really neat to see the mills that have been part of Bruges since the 13th century! Try to walk up the stairs on the windmill to see cool views of the city for free!
Climb the Belfry:

Belfry part two! Yes, I told you to climb the belfry in Ghent, but the one in Bruges has great views too! On your way up, you can see different rooms and artifacts, and learn about the history of the belfry. Then at the top, you can see amazing views of Markt. I was there around Christmas, so I got to watch all the ice skaters from above. It's a well deserved view after 366 steps!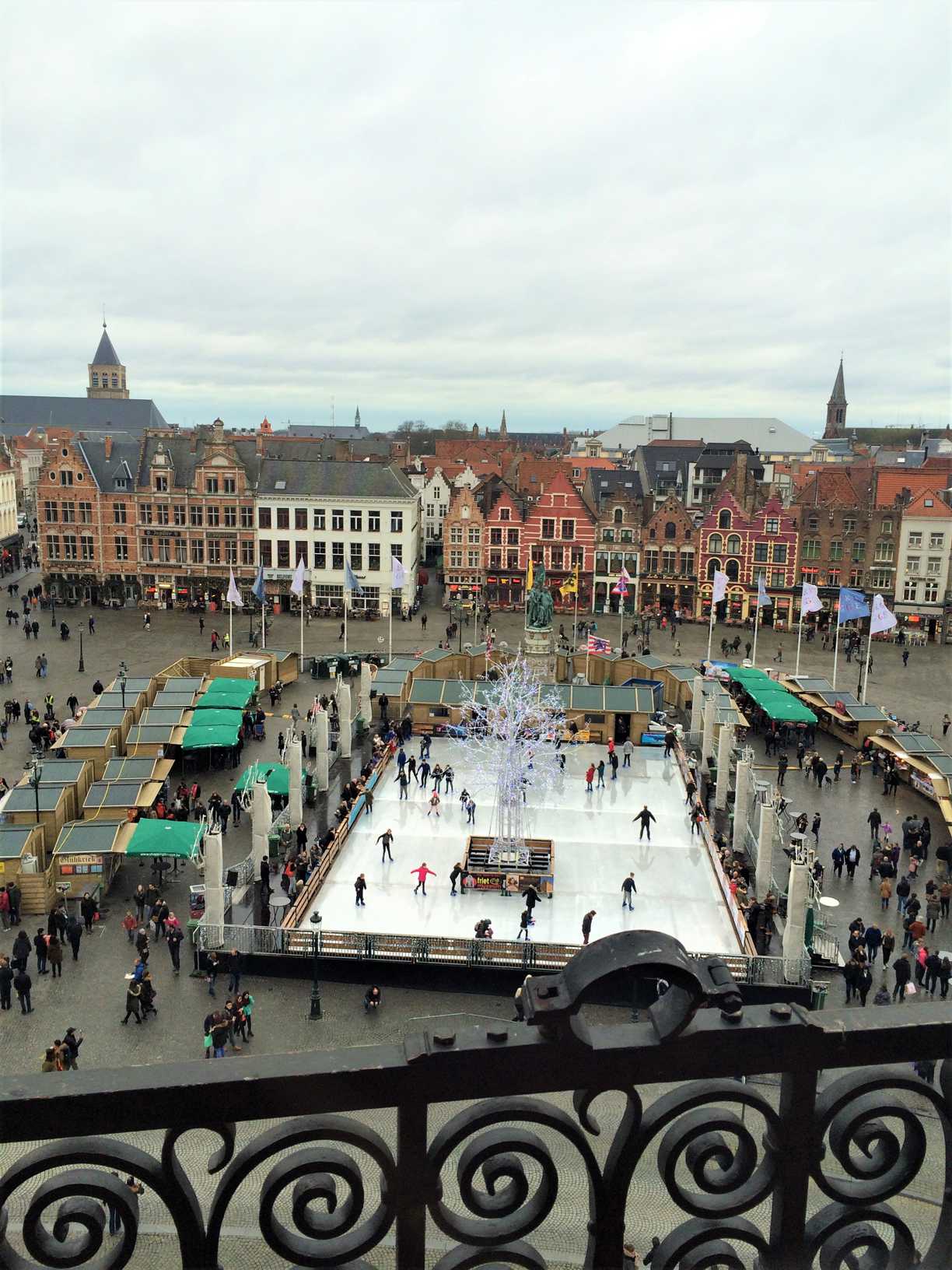 The romantic Bonifacius Bridge:
Located in the Arents courtyard near the grounds of the Church of Our Lady, Bonifacius Bridge is a pedestrian bridge that is considered to be one of the most romantic spots in Bruges. While basically the entire city is super romantic, this bridge's story is partly what makes it so special. Legend says that the first person you see after you cross the bridge is the person that you'll marry! Maybe that worked when the bridge was constructed in the 20th century, but maybe not so much today now that the bridge is typically covered in tourists. Still might be worth a try.

Burg:
Just like in Ghent, you should take the time to explore the streets and squares of the city. One you shouldn't miss is Burg (where the waffle truck might be!). The town hall looks like a palace, and in the Basilica of the Holy Blood you can see a relic of Holy Blood. If you don't want to pay to see the potentially Holy Blood, it's worth a visit to this square to visit the Chocolaterie de Burg to get some pralines.
Just explore!
Bruges is a beautiful and romantic city, and you'll need to walk around and explore to see it all! Luckily, the city is small and walkable, so it's possible to see it all in just a day and a half. For those who are interested in museums, Bruges offers a lot. Beer fans can visit the Bruges Beer Experience, for chocolate lovers there's Choco-story, and for those wanting an interactive history museum, there's the Historium.
The Flemish region of Belgium is unique, and is one of my favorite regions in Europe (partly for the food and beer!). Have you been to Bruges? Is it on your list? Leave a comment and let me know what you think about this fairytale city!
Itinerary: 72 hours in Ghent and Bruges 
Day One
Take train from Brussels to Ghent (Gint-St. Pieters station, then walk to city center)

View of the three medieval towers from St. Michael's Bridge

Graslei

Climb the Belfry

Gravensteen Castle

Patershol Neighborhood

Walk along the canals



Day Two
See the Mystic Lamb in St. Bavo's Cathedral

Take the train from Ghent to Bruges

Walk to Markt

Take a canal tour

Bar de Garre for drinks



Day Three
Walk to the windmills on the edge of the city center

Climb the belfry

Bonifacius Bridge

Burg

Explore the streets