What country would you think of if I said you could visit amazing natural wonders, ancient Roman cities, and lands mentioned in ancient mythology all in the same country? Would you think Greece? Maybe Italy? But nope. It's not either of those. It's Turkey! Nomally when someone mentions visiting Turkey, Istanbul is the first city that comes to mind. And that's fair because Istanbul is amazing. But there's SO much more to Turkey than just Istanbul. Here are three other incredible and unique cities you need to visit while in Turkey:
1. Pamukkale
When you first look at pictures of Pamukkale, you're probably thinking that you're looking at a snowy hill. But no! It always looks like this here, but instead of snow, the hill is covered with white travertine pools which are filled with mineral rich water. Due to this natural feature, a spa town was built here by the Romans in around 190 B.C., which was called Hierapolis. Just like the people of centuries ago, today visitors flock to Pamukkale to walk the tavertine cliffs and swim in the natural pools. While I was there, it wasn't very warm so I just dipped my feet in, but many visitors bring bathing suits and swim when the weather is nice. Regardless if you swim or not, the bright blue waters and white cliffs are definitely worth seeing!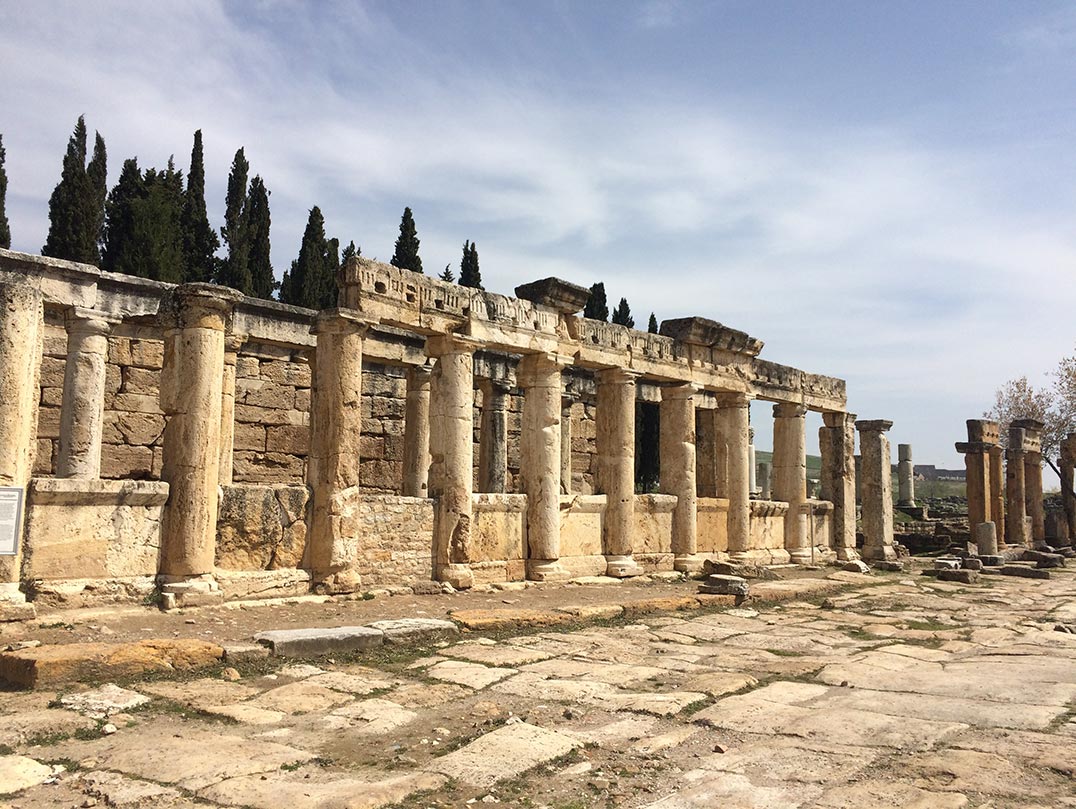 In the 21st century you can still explore a town that was build in 190 B.C. How incredible is that? While today the town is mostly in ruins, they are still a sight to see! A lot of the town has been reconstructed, including the amphitheatre, and you can also see the old main street, columns, and a large necropolis (city of the dead). Hierapolis was like nothing I had ever seen before, so I absolutely loved it! The whole time I was there, I was just thinking about what this city must have been like when it was a thriving spa town with many visitors making the trip there to the healing waters. With the combination of the white tavertine pools and Hierapolis, Pamukkale is a place you need to add to your Turkey itinerary.
2. Selçuk and the Ancient city of Ephesus
History lovers definitely can't miss out on a visit to the ancient city of Ephesus, located outside of Selçuk, Turkey. Ephesus was an ancient Roman Port City and was one of the major trade centers in the time of the Roman Empire. The ruins of Ephesus are well-preserved and/or reconstructed, and it's really impressive because you can walk along the same streets that people walked thousands of years ago. Today you can see the walkway to the ports (even though the water isn't close now), the amphitheatre, the Celcus Library, the baths and more! Make sure that you don't miss the terrace houses, which are located in a building. Well, actually a building was built around them to protect them from the elements. But nonetheless, you shouldn't miss the terrace houses because they show you a great example of how houses were built in Ephesus and showcase a variety of impressive mosaics.
Also near Ephesus is the House of the Virgin Mary. We took a taxi to get there because it's located on a mountain about 6 km from Ephesus. The house is not large and is now a chapel instead of a house, but it's interesting to walk through what was once the Virgin Mary's house! The story goes that the Virgin Mary and one of the Apostles headed to Ephesus after Jesus's death. The Apostle was entrusted with Mary's well-being and to escape persecution they went to Ephesus. It was cool to think that I was in the same area that the Virgin Mary once lived in.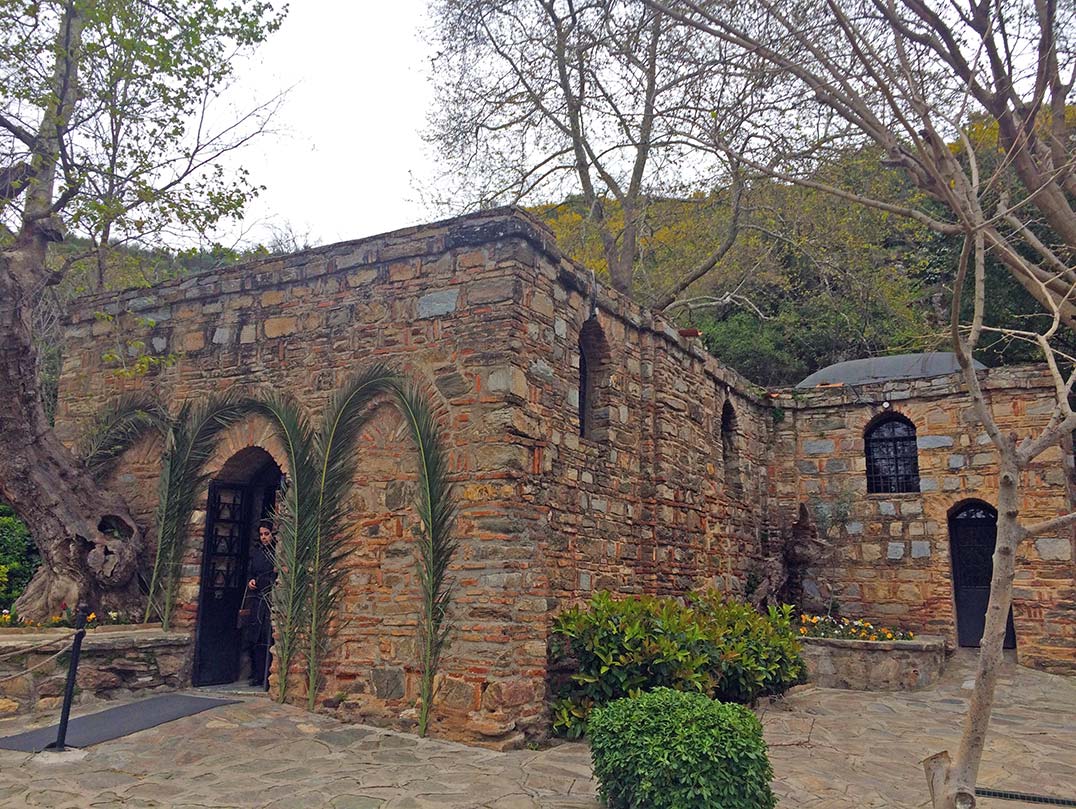 You can't stay in Ephesus, so the best place to book a hotel is in Selçuk. Selçuk is a lively small city with a castle and the remains of the Temple of Artemis. This temple was apparently burned down because some guy wanted to be remembered, and his idea to be remembered was ruining a beautiful temple…people were crazy back then too! The castle is just the outer wall, but it's still worth visiting if you like castles. Nearby you can also see St. John's Basilica, which is also in ruins, but interesting to see nonetheless. Selçuk also has an archaeology museum with artefacts from Ephesus, if you want to see more! I definitely recommend going to the museum because Ephesus itself is mostly just walking around and seeing ruins and reconstructions, while in the museum you can see jewelry, statues, coins, and more! I particularly liked the statue of Artemis and all the gorgeous jewelry.
3. Çanakkale and the ancient city of Troy
When I booked my trip to Turkey, Çanakkale was the city I was most looking forward to visiting. This was because of TROY. Ever since seeing the movie back in 2004, I've been fascinated by the history of Troy, and knew I wanted to visit. When I figured out that Troy was in Turkey, I penciled that into my itinerary and was extremely excited to go! The site of ancient Troy is located closest to the small, charming city of Çanakkale. The city is close to the water and has a nice waterfront with hotels and restaurants. By the waterfront, you can even see the horse they used in the movie Troy. I was pretty psyched about seeing that!
To get to Troy, you need to take a shuttle, which is just a minibus. The site is in a pretty remote area, about 30 minutes south of Çanakkale. It's an excavation site and mostly in ruins, but it's still so cool to be in the place that once was most likely the ancient city of Troy. When I visited the site, it was practically empty, which was made it amazing to explore. There's another big Trojan horse located on the site, and you can actually go inside this one. Being the nerds that my friends and I are, we took a plethora of cheesy photos outside of the horse using props that are available to use for a small fee (which included helmets, plastic swords and a fake bow and arrow).
After the photo-op, we took an audio tour, which explained the history of the site. The ancient city of Troy was discovered by a German businessman/amateur archaeologist named Heinrich Schliemann. Amateur being the key word because according to the audio tour, he did not do a good job and destroyed many of the ruins because of his lack of experience. The site was made up of several layers. Basically, if the city burned down or got damaged, they would just build a new city on top of the old own. Becasue of this, you can see different layers which represent the city at different times in history, even though when Schiemann cut into the layers he did more damage than good. He also took all of Priam's treasure and brought it to Germany. Then during World War II, the Russians took the treasure out of Germany and now many of the artefacts are in Moscow instead of Turkey. I would have loved the chance to see the treasure in Troy!
The audio guide lead us around the site and to some of the ruins, such as the ramp that was once the entrance to the city, an amphitheatre, and a variety of other ruins. The thing that surprised me the most was how green Troy was (along with how many cats were there). The film portrayed it as looking like a desert, but in reality it was so green and beautiful! If I was building a city, I would have picked there too. While the ruins are not as well preserved or as vast as Ephesus, I still loved the visit based on the legends alone.
When planning your trip to Turkey, think outside the box! While I certainly recommend visiting Istanbul, there are many other unique and wonderful cities to visit in Turkey that will make your trip memorable like Pamukkale, Çanakkale, and Selçuk. Did I miss your favorite Turkish city? Let me know in the comment where else you'd recommend to visit in Turkey.
Carrie Hancock
American living in Madrid, Spain and taking 72h travels across Europe.
When not traveling, I can be found hiking, running, and attempting to make Spanish food.
Learn more about me