Whenever I meet someone from Poland, my automatic reaction is, "You're from Poland? I LOVE POLAND!" And every time, they are really happy to hear that I enjoyed my time in their country, which is often overshadowed by their difficult past. The fact that I enjoyed myself is in an understatement though. While in Poland, I was fascinated by their local legends, engorged myself with all the delicious local foods,and was in awe of their beautiful Old Towns. While you cannot overlook the tragic past of Poland, such as the destruction of Warsaw and the atrocities that occurred in Auschwitz, Poland today is full of color and joy, and an excellent choice for a 72 hour trip. 

Day One  
Start your Polish adventure by exploring beautiful Kraków! If you're flying, the airport is very well connected to the city center by train, so just buy a ticket to the Kraków main train station and you'll be exploring the city before you know. 
Take the time to explore the beautiful Old Town. It's Main Square (Rynek Główny in Polish) is full of baroque looking buildings and  towering churches with gorgeous colorful interiors.The church in the Main Square, Bazylika Mariacka, had a beautiful blue ceiling with gold stars. When I was there, we actually walked in on a wedding ceremony (oops), and that made the church seem even more lovely.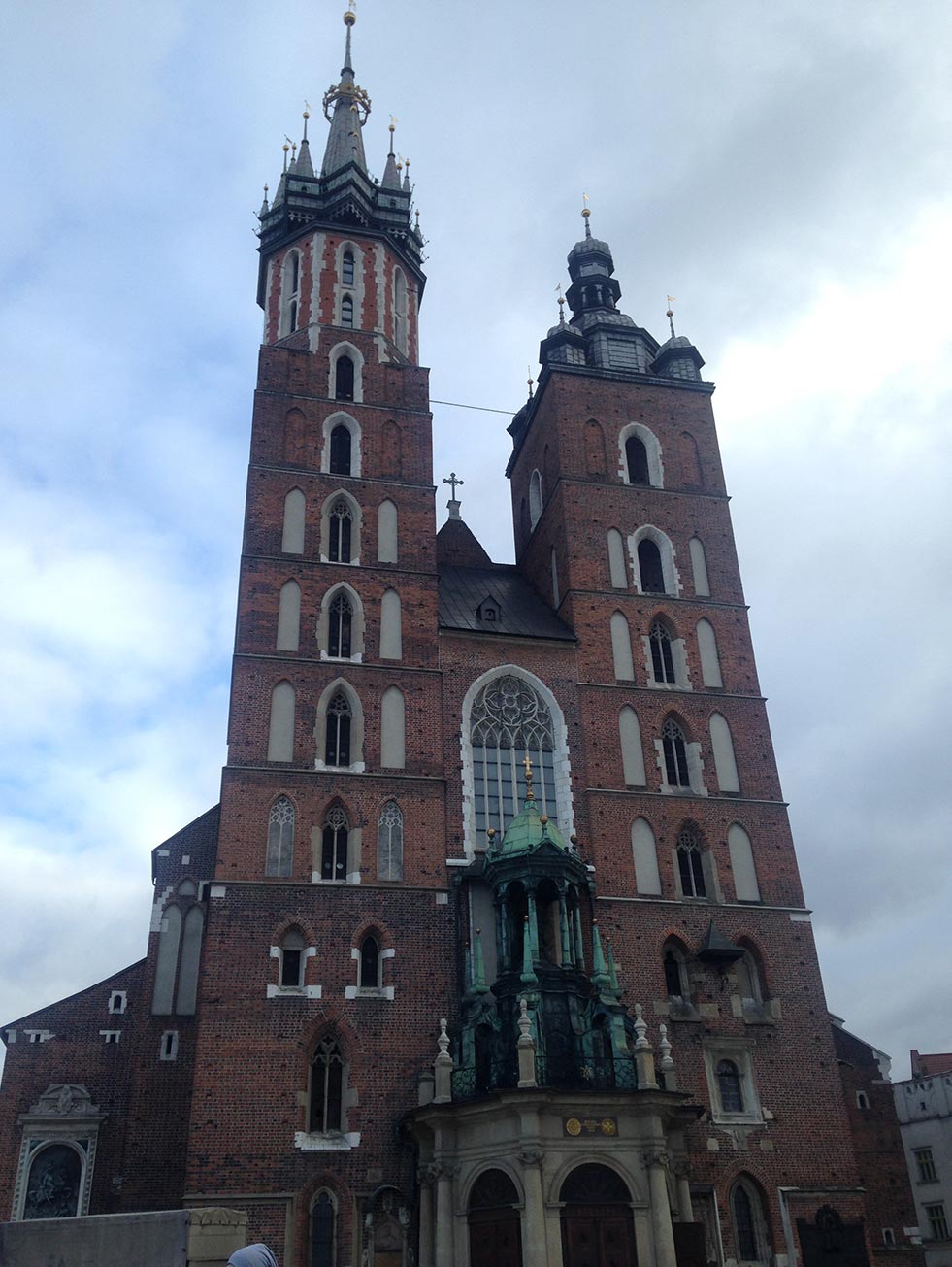 When you start to get hungry, make your way to Kuchnia U Babci Maliny. IT'S SO GOOD. I was not disappointed by Polish food. Eastern European food (and Eastern Europe in general) is so underrated! There, I got goulash stew in a bread bowl, Kraków potatoes covered in dill sauce and dessert perogies with sweet cheese on top. The regional food is full of stews and perogies, and you should try them all! Since food was so cheap, my friend and I normally got one main dish each, and then perogies to share. It's safe to say that we weren't hungry for a second while in Poland. 
After lunch, continue exploring the city and head to Wawel Castle and Cathedral. Here I learned that the castle was built on top of a dragon's lair. Story goes that the town was terrorized by a dragon and the king offered his daughter's hand in marriage to the man who could slay the dragon. Many knights tried, but had no luck. Then, a humble shoemaker named Krak came along and he was brilliant. He filled a dead sheep with gunpowder which the dragon then ate and exploded! Krak married the princess and became king of the town, which was then named Kraków after him. Such a great tale!  After walking around the castle and visiting the cathedral, you can even see where the Dragon's lair once stood. Instead of finding a live dragon, you'll now see a dragon statue which actually breathes fire! 

Day Two
Take the time to visit the Auschwitz-Birkenau Memorial and Museum.  Before you go, be prepared for an emotionally tough day. Everyone knows how terrible things were there, but nothing really prepares you for seeing the proof of the atrocities that occurred there in person. I knew there would be things that shocked and disturbed me, but I wasn't really prepared for how it would feel to be in that creepy, eerie place. 
We took a minibus to Auschwitz from the Kraków bus station. The bus ride was around 1 hour and 45 minutes, and it was a bit difficult to figure out the bus schedule, but we made it work. Next thing we knew, we were walking through the "Work Sets You Free" sign. I  made the decision before going to Auschwitz that I would not take any photos. Some people do so in a tasteful way, but for me, this wasn't like visiting a tourist attraction, and in respect to all the people who were tortured and killed at Auschwitz, I thought it was best not to take photos. 
My friend and I visited in late December, and walked around in silence in the cold. First, we visited the Museum in Auschwitz I and then took another small bus to Auschwitz II, Birkenau. There, you can see the famous train tracks, and the buildings that used to house prisoners. I tried to imagine what it must have been like for the victims in the camp who were forced to work in inadequate clothes while being severely underfed, and punished, for being part of certain groups. It's impossible to imagine. 
While visiting Auschwitz takes a toll on you emotionally, it's very thought provoking. The Memorial and Museum is so important because unless we learn from history, we are bound to make the same mistakes. 
We took the minibus back to Kraków and then called it a day, but if you are interested in exploring the city more, there are plenty of museums and parks to visit in Kraków. 
Day Three
Hop back on the train (the same one to get to the airport), but this time head to the Wieliczka Salt Mine, which is a UNESCO Heritage site. The mines are located in a small town outside of Kraków. You can have a look around the town before entering the mines, but there isn't much there. The 700 year old mine was really cool and had three layers that we explored with a guide. We ended up being 130 meters underground and saw how the mine worked, cool carvings made in the salt, and got to taste the salt off the walls. We even saw a chapel with salt chandeliers and statues. It was really neat and so different than anywhere I've been. It's just crazy to think that people discovered salt there in the neolithic period and continued to use the salt there for thousands of years. It was also cool how the mine is also used for religious services, weddings, concerts, conferences and more. While a salt mine might not seem like the most interesting day trip, this place is worth the trip! 
The tour takes a couple hours, so you'll have plenty of time to explore more of Kraków or visit a few museums. We went to a few tap houses with excellent beer in the center, one being House of Beer. 
Kraków surprised me in the best way! The architecture, food, unique day trips, and history were even more interesting than I expected and make for great for a 72 hour trip. 
Itinerary: 
Day One
Day Two
Day Three
Day trip to Salt Mines

Museums or exploring the center
Carrie Hancock
American living in Madrid, Spain and taking 72h travels across Europe.
When not traveling, I can be found hiking, running, and attempting to make Spanish food.
Learn more about me