Spend 72 hours in the Spanish capital, and you might never want to leave.
Okay. I might be a tiny bit biased. As a three year resident of Madrid (aka Mad City) and a self-proclaimed Madrileña, I know this city pretty well. And it's definitely worth adding to your travel itinerary, even if it's just for 72 hours. Madrid is a very lively city and there's always something to do: from staying up all night at some of the best clubs in Europe (and by all night, I mean you shouldn't be in bed until 7 am) to spending a day in a world-famous art gallery. I could probably make a list of 100 reasons why you should come to Madrid (and visit me!), but I'll save you a lot of time and just stop at 10. So here you go: 10 reasons why you should book a flight to Madrid!
1. It's in the exact center of Spain.
If you've ever wanted to be in the exact center of a country, you need to come to Madrid right now and go to Puerta del Sol! Puerta del Sol is in the middle of Madrid, which is the middle of Spain, and there's even a plaque with the coordinates near the City Hall to prove it. (Took me three years to find the plaque, but I'm certain that you can find it in under 72 hours!) Even if that's never been a goal of yours, it's still worth visiting the main plaza in Madrid. The Tio Pepe sign above Puerta del Sol is iconic, you can see an equestrian statue of Carlos III, and there is a there is a monument of the bear and the Madroño tree, the symbol of Madrid.
Puerta del Sol is not only the center of the city, but it's also the heart. This is where the biggest Christmas tree is during the Winter, where countless protests are held, and where Real Madrid shows off it's Champions League trophies year after year. It's where young and old, locals and tourists mix to shop and stroll the streets.


2. It has a plaza that's older than the USA.
If you're looking for history, then you should head to Madrid to visit the 400 year old Plaza Mayor. There was even a celebration in 2017 for the plaza's 400th birthday. Seriously.
In the past, Plaza Mayor was a market place, but also was a place for entertainment, bull fights, and coronations. Entertainment still takes place in the plaza today, whether it's hosting pop stars from all over the world, or performances of Madrid's regional dance (basically the girl does all the work while the guy just spins around. It's different.)
Plaza Mayor is surrounded by beautiful red buildings with columns and arched entryways. When you step into this plaza you'll feel like you've taken a step back in time, even though now it is filled with restaurants with outdoor seating (very touristy and a bit more expensive, but the view is nice).  Just beware of the crazy tinsel goat that is normally set up in the plaza. When you get close to the person dressed as a crazy goat, they'll start shaking and making noise, and it's pretty terrifying. You've been warned.

3. It has the biggest palace in Europe.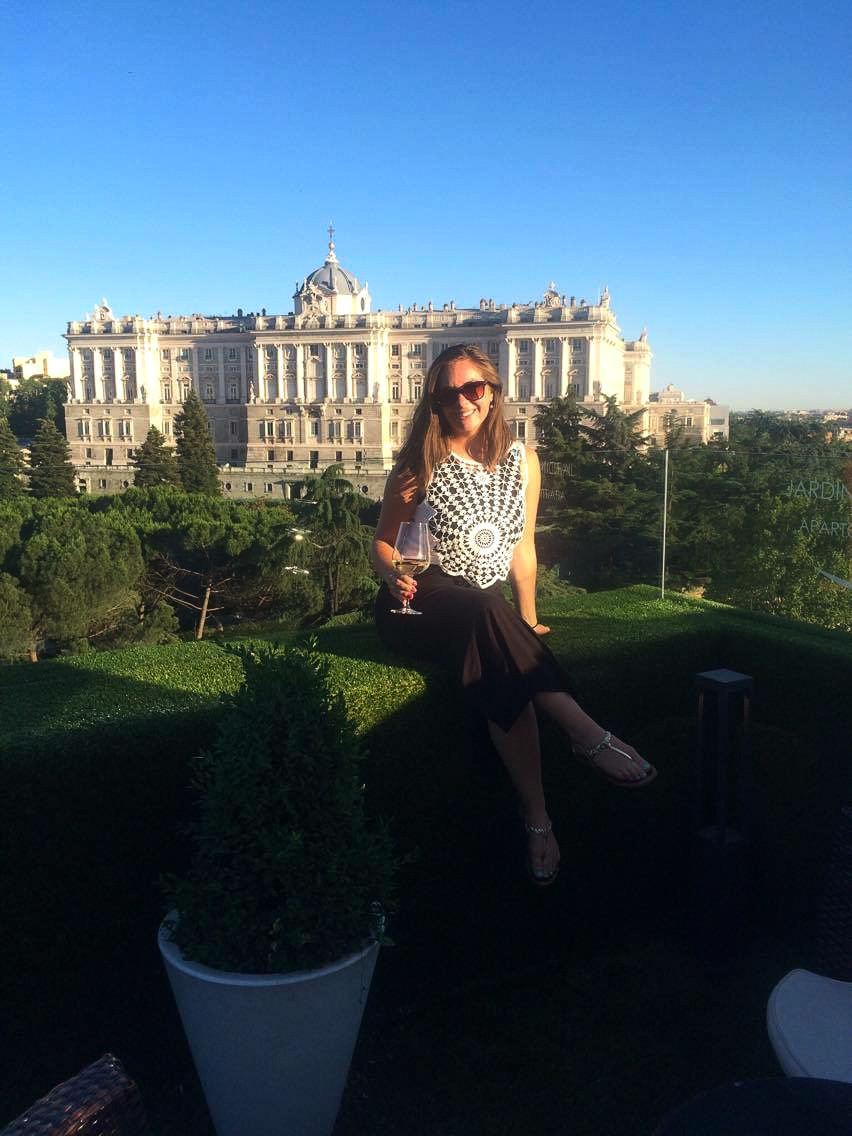 Is your city home to the biggest palace on your continent? My guess is that it probably isn't. So if you're looking to feel like royalty and see the largest palace in Europe, then the Royal Palace of Madrid is the place for you! It has almost 3,000 rooms, but only 50 are available for public viewing. Butyou do get to see the most important room, the throne room, plus beautiful artwork and furniture. If you're as nerdy as me and love arms and armor, you can even visit the armory! Here you can see cool swords and bows, and even armor made for small children. Why small children would need super heavy armor, I'm not sure. I tried a replica medieval helmet on once and almost fell over, so I don't know how small children managed. 
Besides just the palace, there are also beautiful gardens! One is the Sabatini Garden, which is a close walk from the palace. To see a beautiful view of the gardens and the palace, you need to go to the rooftop bar of Apartosuites Jardines de Sabatini. There are a lot of rooftops in Madrid, but this one is my absolute favorite! Just remember to make a reservation for dinner, that way you get the best seats. The other garden is Parque del Moro. Parque del Moro is a farther walk to get to, but so worth it. It's probably my favorite spot in Madrid because it's kinda a secret park, and there are never many people. But it has one of the best views of the palace. 

4. It basically has a forest in the city center. 
If you're looking for a green space after a day of city sightseeing, you can find it in Retiro Park. Along with a ton of trees, it also has a lake! We might not have an ocean or even a proper river, but we have a lake! Yeah, it's a small, man-made lake, and you can't swim in, but it's something! I grew up living near the water, so this little lake makes all the difference when living in a landlocked city. You can even rent little row boats for 8 euros (up to four people can fit in the boat) and row around the lake for 45 minutes.
There is so much more to the park besides just the lake and trees though. I would know after training for three half marathons in that park (and living a block away). There's a crystal palace with another lake in front of it which is home to some cute turtles. There's a free museum that is partnered with the modern art museum in Madrid, the Reina Sofia, lots of fountains, and a gorgeous rose garden. It even has the only public statue of the devil in the world, which is called "The Fallen Angel." On another note, if you've ever wanted to see a peacock with its feathers open, you need to head to the Jardines de Cecilio Rodríguez during your 72 hours in Madrid. Picnicking in Retiro is really common, so grab a blanket, a loaf of fresh bread, some jamón, and join the Madrileños.

5. It has enough art museums to fill 72 hours or more.
For both the art snob or casual observer, Madrid is the perfect city. Some of the world's best art museums are located on the Paseo del Prado. The massive Prado Museum is home to works by many artistic greats, including Spanish artists Goya and Velázquez. If you're into Modern Art, the Reina Sofia is where you should go. Picasso's huge painting Guernica is here, and you can't miss it if you're visiting the Reina Sofia. I'm not a huge fan of modern art, but the sheer size of this painting is impressive! If you want a little bit of both classical and modern art, the Thyssen Museum is the place for you. It's smaller in size than both the Prado and Reina Sofia, so much more manageable in a short amount of time. There are also exhibitions in the Cibeles Palace. The building itself is gorgeous (inside and out!) so if you have time, go inside and see their latest exhibition. 

6. It's home to a 2nd century BC Egyptian Temple.
Seriously. Egypt tore down and shipped an entire ancient temple to Spain to save it from flooding after the building of a dam. Now, you can see the Temple of Debod in Parque del Oueste in Madrid. This hilly park is also home to a rose garden and a sky ride that can take you to Casa de Campo, which used to be the kings' hunting grounds.

7. It has not one, but TWO hipster neighborhoods.
If you're into vintage shops, craft beer, records, and wearing beanies, welcome to Mad City. The Malasaña neighborhood is the original hipster neighborhood and is full of unique bars, restaurants, and cafes! Let me know if you want recommendations. I can give you hundreds. Just walking through you'll see so many places you'll want to stop and get a drink, and really cute boutiques too!
Now that Malasaña is so well known as the "cool" neighborhood, true hipsters are flocking to the Lavapiés neighborhood. Lavapiés is a very mulitcultural neighborhood, and besides excellent Indian food you can find cool bars and restaurants on every street. 
8. It's surrounded by cool small towns and nature.
Getting out of the city is easy in Madrid. You can take a day trip to El Escorial to explore a massive mausoleum, see an ancient Roman aqueduct in Segovia, get lost in the streets of Toledo (which is where they made all the swords in Lord of the Rings, so a must visit for all the nerds out there. Like me.), stroll through palaces and their beautiful gardens in Aranjuez and La Granja, among many other places.
If you're looking to escape into nature and get some fresh air, gorgeous national parks aren't far away. You can swim in a natural swimming pool in Cercedilla or go hiking through the Mars-like rocks of La Pedriza. And both are accessible by public transportation!
9. One word. Churros. 
One dip of the churro into the chocolate and you'll want to pack your bags and live here forever. My love of churros has gotten so bad that one morning I ordered churros to be delivered to my house. No shame. Churrería's and Chocolatería's can be found all over Madrid, but the most famous is San Gines near Plaza Mayor. Go there.
10. It has the best sunsets.
Sunsets in Madrid are something magical. The sky transforms into vibrant shades of pink, orange, and red, and the wispy clouds become reminiscent of sweet and sugary cotton candy as the sun descends from the sky. This sight only gets better when drinking a glass of Ribera del Duero wine and eating traditional Spanish tapas (I'd recommend calamari, patatas bravas, and tortilla de patata!). When sunset comes around, head over to one of Madrid's many rooftop bars to witness probably one of the best sunsets you'll ever see. If rooftop bars aren't your thing, you can always head to Temple of Debod for prime sunset viewing. Nothing beats a great sunset, and chances are you'll see a spectacular one when spending 72 hours in Madrid.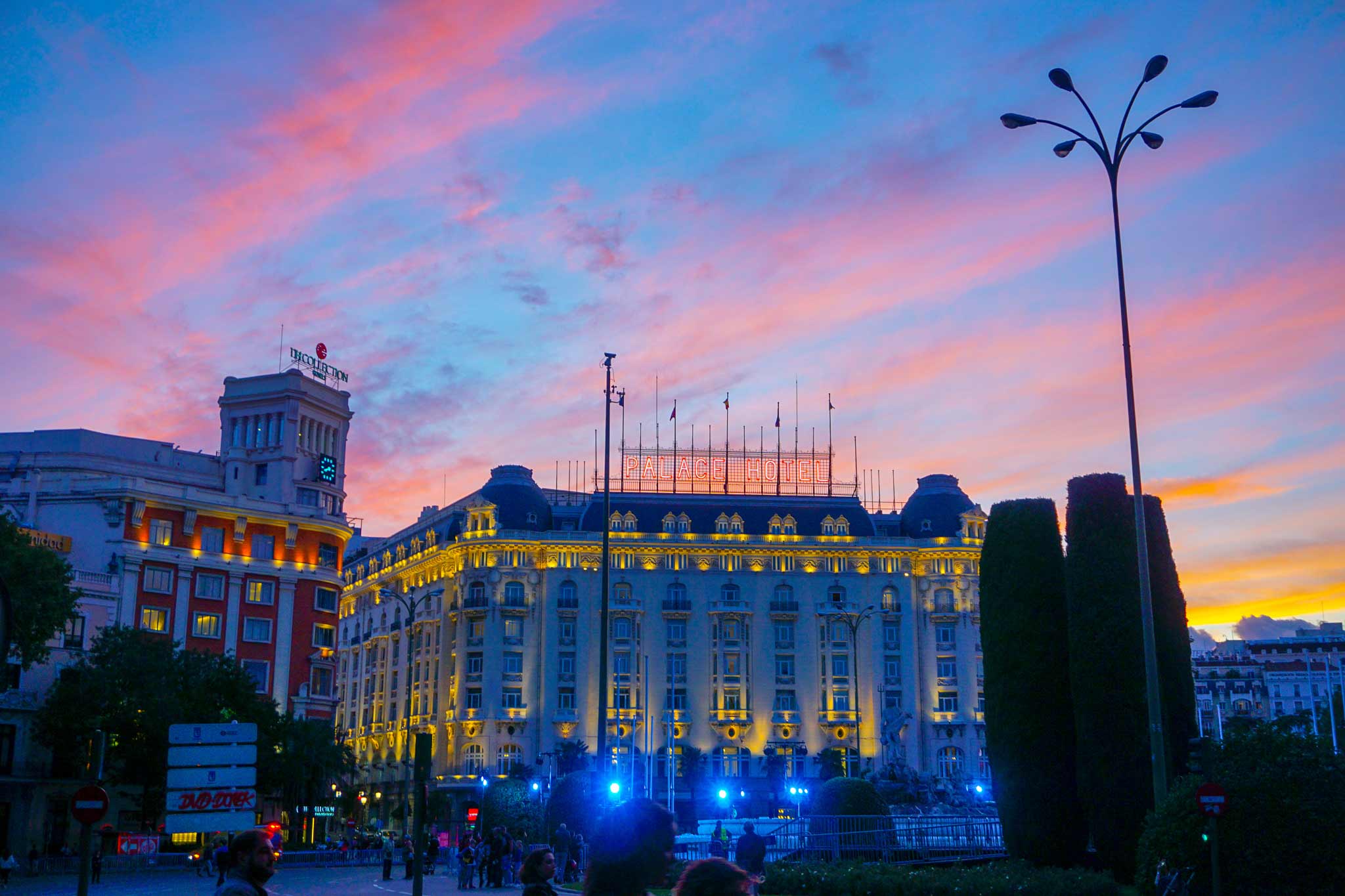 When I moved to Madrid, I didn't know what to expect. But what I found was a beautiful, lively, and bustling city that has something for everyone. And best of all, it's almost always sunny. Have I convinced you to book a flight here yet? Will you be spending 72 hours here anytime soon? I'll be here!
Itinerary: 72 hours in Madrid
Day One
Puerta del Sol (metro Sol and then walking)

San Gines

Plaza Mayor

Almudena Cathedral

Royal Palace

Sabatini Gardens

Parque del Moro
Day Two
Retiro Park (metro Retiro and then walking)

Lake with boats

Crystal palace

Cecilio Rodriguez Gardens

Rose Garden

Fallen Angel Statue

Prado Museum OR Reina Sofia Museum

Lavapiés Neighborhood if you want a hipster vibe AND/OR Las Letras Neighborhood if you want a more posh vibe
Day Three
Half day trip to El Escorial OR Segovia OR Toledo. They are all about the same distance away, but different transportation and cost. If you are interested in taking the bus, google maps is always a good bet for bus times.

El Escorial:

Take the Cercanias C3 (commuter train) from Sol or Atocha to El Escorial. It's the last stop and takes about an hour. No need to book tickets in advance and they

leave once an hour

. You can also

take the bus

, which is also around an hour and you buy tickets on the bus.

Segovia:

Book tickets in advance

. The trains come pretty frequently, but there are vast differences in prices depending on what time you leave and which train you take. If you take the regional train, you could have a ticket for as low as 8 euros one way, but it takes 2 hours to get there. On the other hand, you could take the AVE (fast train), but you could pay between 12 and 30 euros just for one way.  You could also take the bus, which is about 14 euros one way.

Toledo

: Similarly to Segovia, prices can vary so book tickets in advance if you're taking the train. If you

take the AVE

(fast train), the trip is 33 minutes and 12.90e one way. If you're

taking the bus

, it takes around 50 minutes from Plaza Eliptica.

Temple of Debod for sunset (metro Plaza de Espana)

Malasaña neighborhood for drinks (walk from Templo de bode, or metro Tribunal)